Sherlock Holmes and the Chocolate Menace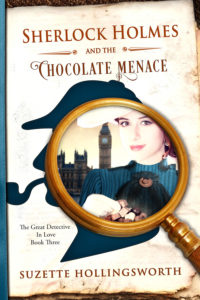 Purchase
The plans for the Abdül Hamid, the only submarine with a working torpedo in existence, have been stolen. Whoever has the blueprint, more valuable than the Queen's jewels and representing a great deal more power, rules the seas.
But the plot thickens. Someone is attempting to usurp the British government with the discrediting of the three most powerful leaders in England: Queen Victoria; William Gladstone, the Prime Minister; and Benjamin Disraeli, the conservative MP. The sun never sets on the British Empire: whosoever rules England, rules the world.
Who has the submarine plans? And who is behind the slander? Sherlock Holmes, Dr. John Watson, and their female operative Mirabella Hudson are hired by government official Mycroft Holmes to recover the submarine plans, stop the exposure of state secrets, and save the monarchy. Some might view this task as insurmountable, but Sherlock Holmes has a different view of things.
Let the games begin.